A Reflection from the Minister, for Sunday 28th June 2020.
As we begin to look ahead to a careful reopening of Canongate Kirk later in phase 3 of the easing of restrictions, from next Sunday onwards this website will include an act of worship, pre-recorded in the Kirk, to give an idea of the sort of service that might soon be possible "live". It will not be identical to either of the services previously held at 10am and 11-15am, but a blend of the two, incorporating distinctive elements of both.
Meanwhile this coming week should have been Royal Week, when Her Majesty The Queen traditionally takes up residence in the Palace of Holyroodhouse for an annual series of distinctive elements – ceremony of the keys, investitures, audiences and of course the Garden Party. Like many others I should have been getting my hair cut and my shoes polished in anticipation. But of course this year it's all cancelled or postponed, while The Queen rightly remains at Windsor Castle. In recent weeks Her Majesty's speeches have been a source of comfort and encouragement to many in these uncertain times. In our Kirk of Holyroodhouse we know for ourselves how important The Queen's own Christian faith has been in providing her with a source of comfort and encouragement throughout her long and dedicated reign, and as we give thanks for her continuing health and strength we look forward to the day when Her Majesty will return to the Palace of Holyroodhouse, and its ancient Kirk.
Loving God, we ask your blessing on The Queen at this time, and on all the Royal Family and Household. We pray for the Forces of the Crown and for all who have continued to do their duty in the difficult and challenging circumstances of the last few months, not least in hospitals and in care-homes across the country. We pray for those who bear the responsibility of government and weigh up so many conflicting demands and expectations, and for the leaders of the Churches and faith communities responding to their decisions. Be for them and for us a source of comfort and encouragement as we look forward in faith and in hope, through Jesus Christ our Lord. Amen.
---
A reflection from the Minister, for Sunday 21st June 2020.
Next week, 24th June to be precise, sees the Church's annual commemoration of the birth of John the Baptist. To be honest it's not something I used to be particularly aware of until I came to Canongate Kirk and in due course became involved with the Order of St John. The Priory of Scotland has its HQ in our parish, in St John St appropriately enough, and every year around this time meets in a different part of Scotland for a great service and celebration of its work under the motto "For the Faith and in the Service of Humanity." Next week's gathering, in Dunblane Cathedral, is inevitably cancelled, but the birth of John the Baptist still calls to mind his father Zechariah's wonderful prophecy soon afterwards, recorded for us in St Luke 1:67-79.
It ends with words which surely speak to our own times as we respond to the latest easing of restrictions and begin tentatively to find a way forward, for the faith and in the service of humanity. "By the tender mercy of our God, the dawn from on high will break upon us, to give light to those who sit in darkness and in the shadow of death, to guide our feet into the way of peace."
Almighty God, by whose providence your servant John the Baptist was wonderfully born, and sent to prepare the way of your Son our Saviour by the preaching of repentance: lead us to repent according to his preaching and, after his example, constantly to speak the truth, boldly to rebuke vice, and patiently to suffer for the truth's sake; through Jesus Christ your Son our Lord, who is alive and reigns with you, in the unity of the Holy Spirit, one God, now and for ever. Amen.
A reflection from the Minister, for Sunday 14th June 2020.
Of all the Regimental Colours and Standards in Canongate Kirk, those with which I have the closest personal connection are the actual Scots Guards Colours under which I served as an army chaplain in West Belfast in 1992. In those days they were kept in the Officers' Mess at North Howard Street Mill, just off the Falls Road, then returned to Germany with the Battalion when our tour of duty was over. They were eventually laid up in Canongate Kirk in 2003 and fixed to our front pillars, three years before my induction meant that I would be serving under them once again!
This weekend should have seen Her Majesty The Queen's official birthday parade take place in central London, generally known as Trooping the Colour. Under the current circumstances it's been reduced to a smaller, safer ceremony with the Welsh Guards in the quadrangle of Windsor Castle. Next year it will be the Scots Guards' turn again. At the heart of the original parade lies the intention that every soldier should recognise their own Regimental Colour, the more readily to rally to it in the heat of battle even if they became separated and scattered. Today's Gospel reading is St Matthew 9:35-10:8, where Jesus summons and sends out his twelve disciples into the heat of a different sort of battle, but a battle in which we who follow him are still called to engage, and a cause to which we must rally even when we find ourselves separated and scattered.
Almighty God, whose blessed Son did say unto St Andrew "Follow me", grant that the Scots Guards, who wear the Cross of thy Holy Apostle, may follow thy Son with impunity; be made stronger in brotherhood and fierce against all enemies of our Saviour, ever going forward under the leadership of him, who by the hard and painful way of the cross, won high conquest and great glory, even Jesus Christ our Lord. Amen.
---
A Reflection from the Minister for Pentecost, Sunday 31st May 2020
A Reflection from the Minister for Ascension Sunday, 24th May 2020.
The Church marks the Ascension of Jesus forty days after Easter and ten days before Pentecost, and traditionally draws on the closing verses of St Luke's Gospel where Jesus anticipates the descent of the Holy Spirit with these parting words "I am sending upon you what my Father promised; so stay here in the city until you have been clothed with power from on high." It's already forty days and more since we noted that when the risen Jesus first appeared to his disciples behind locked doors he brought them his peace – "Peace be with you" his first words that first Easter Day. Now, when he is about to disappear from their sight, he urges patience, "Stay here in the city until you have been clothed with power from on high". Just hang on a bit longer, he tells them in effect. Have patience.
Once again a chord is surely struck with our current situation. Still behind locked doors, still staying here in the city, still needing patience to hang on just a bit longer in our waiting and in our wondering. But finding too that by his Ascension our hearts and minds are inevitably raised to a higher plane, even as we ourselves wait for Pentecost, and power from on high. Christ's peace, our patience, God's power.
Grant, we pray, almighty God, that as we believe your only-begotten Son our Lord Jesus Christ to have ascended into the heavens, so we in heart and mind may also ascend and with him continually dwell; who is alive and reigns with you, in the unity of the Holy Spirit, one God, now and for ever. Amen.
---
A reflection from the Minister, for Sunday 17th May 2020.
One of the readings set for this Sunday, the 6th of Easter, ends with God's call to repentance "because he has fixed a day on which he will have the world judged in righteousness by a man whom he has appointed…" (Acts 17:31). More locally, this weekend should have marked the opening of the General Assembly of the Church of Scotland, the day fixed at the close of last year's gathering and the man appointed to be our new Moderator, the Revd Dr Martin Fair, selected during the months that followed. But none of it has turned out as anticipated and we feel particularly for Martin and for his predecessor who was with us in Canongate Kirk just before Christmas, the Rt Revd Colin Sinclair, as their handover takes place online with very few people allowed to be present in the Assembly Hall. The throne gallery, where Prince William would have taken his place as Lord High Commissioner, will be empty too.
At the moment none of us can literally fulfil the Great Commission that Jesus issues at the end of St Matthew's Gospel, to "go therefore and make disciples of all nations, baptizing them in the name of the Father and of the Son and of the Holy Spirit, and teaching them to obey everything that I have commanded you." But we can surely find strength in his parting words, "And remember, I am with you always, to the end of the age."
Almighty God, we ask your blessing on Martin Fair, our new Moderator, and on all who are called to positions of leadership and responsibility in the Church and in the nation in these challenging days. And as Christian Aid Week draws to an end, we pray for all who suffer directly or indirectly from the effects of coronavirus around the world, and for all who provide help and healing, comfort and support; through him who is with us always, to the end of the age. Amen.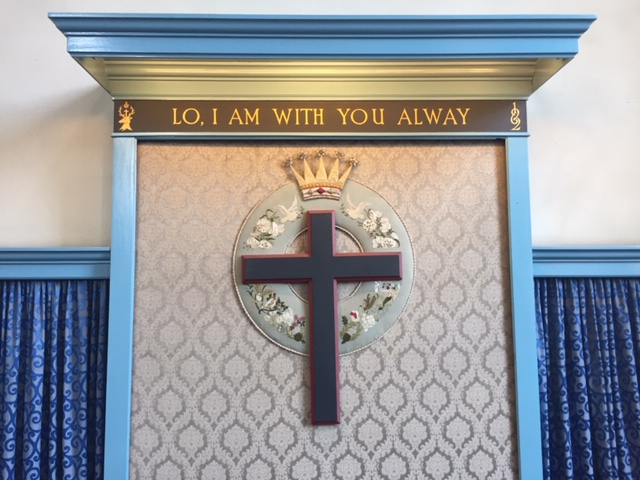 ---
A message from the Minister on Friday 8th May, VE Day
---
A Message from the Minister for Sunday 3rd May 2020.
Last week saw the 800th anniversary of the laying of the foundation stone of Salisbury Cathedral on 28th April 1220. It took 38 years to complete and today this magnificent building still boasts the tallest spire in the United Kingdom. I'm reminded of it whenever I pass through East Saltoun, the East Lothian village where the little local church has a spire that is strangely reminiscent of the Wiltshire cathedral. It's said to be in connection with the fact that Gilbert Burnet once began his ministry there and ended up as Bishop of Salisbury in the seventeenth century. That's quite a career trajectory!
For the time being of course both Salisbury Cathedral and East Saltoun church, along with every other church in the country, are closed for public worship. We don't have any kind of spire on Canongate Kirk, but we do have a motto – sic itur ad astra, this way to the heavens – that lifts our hearts and minds every bit as heavenwards as the church spires you might be able to see from your windows or on your daily walk. And reminds us, as they do, of the "one God and Father of all, who is above all and through all and in all."
God of peace, who brought back from the dead our Lord Jesus, the great Shepherd of the sheep, through the blood of an eternal covenant, make us perfect in goodness so that we may do your will; and create in us what is pleasing to you; through the same Jesus Christ our Lord. Amen.
---
A Message from the Minister, for Sunday 26th April 2020.
The Gospel reading set for today is simply known as The Road to Emmaus (St Luke 24:13-35). It's inspired some of the greatest artists, like Caravaggio, whose classic depiction – below – featured in a major exhibition in Edinburgh just a few years ago. Here he shows the moment Cleopas and his friend finally recognise Jesus as he blesses the food before them – until now they had been sad and downcast, desolate at the thought of Christ's crucifixion and perplexed by reports of his resurrection. But now in an instant they sense his risen presence with their own eyes and their own hearts. Rising from the table in excitement, arms outstretched in amazement, "Were not our hearts burning within us?" they ask themselves even as Jesus disappears from their sight and they prepare to return immediately to Jerusalem, sad and downcast no longer, but transformed and determined to share the good news with their friends.
Even in these difficult times it's a story and an image that reach to the very heart of of our Easter faith. A reminder that Christ's triumph can bring transformation to us all, that in his resurrection lies our rejuvenation.
God of life and love, your Son made himself known to his disciples in the breaking of bread. Open the eyes of our faith, that we may see him in his redeeming work, who is alive and reigns with you and the Holy Spirit, one God, now and for ever. Amen.
---
A Message from Rev Breda Ludik, for the first Sunday after Easter, 19th April 2020.
Gospel Reading for the Day – St John 20:19-31
CS Lewis once wrote, "It would seem that Our Lord finds our desires not too strong, but too weak. We are half-hearted creatures, fooling about with drink and sex and ambition when infinite joy is offered us, like an ignorant child who wants to go on making mud pies in a slum because he cannot imagine what is meant by the offer of a holiday at the sea. We are far too easily pleased."
When John states his purpose for writing his gospel in verse 31 of our Gospel reading, we understand why Jesus reached out to the disciples and, in such a special way to Thomas. Yes, his appearance elicited faith. Thomas' passionate cry of "My Lord and my God!" is the high point to which the whole gospel is heading from the start. But faith is more than mere consent to a fact. It is knowledge and a disposition that opens the believer up to life. Through believing who Jesus is, we are opened up to a richer and fuller life than would ever be possible without faith. We become so much more than the "half-hearted creatures" CS Lewis describes. In John 10:10 Jesus states the purpose of his mission in exactly the same way: "I came that they may have life and have it abundantly."
This is the message of Easter: Jesus has risen and, with him, so have we!
Lord, death could not hold You. And because of You, the resurrection, we, too, can have life and have it abundantly. For this we thank you. Teach us to enter into the fullness of the joy of Easter. Amen.
---
A message from the Minister for 12th April, Easter Day.
---
A message from Rev Breda Ludik for 11th April, Holy Saturday.
One of the traditional texts for Holy Saturday is Matthew 27:57-66. It is just before sunset on the day of Jesus' crucifixion. Joseph of Arimathea lays the body of Jesus in his own new tomb before, as a concession to the Pharisees, a large stone is rolled in front of the tomb's opening. Matthew reports something that usually slips by without us noticing: Mary Magdalene and the other Mary sat down opposite the tomb. They are waiting. There is something of resignation in what they do. And yet… this is holy waiting. They cannot merely walk away and let life begin again. They cannot dismiss what had happened with a shrug. It means too much. All else pales by comparison. So they wait.
This is the pose for Holy Saturday and it is a pose we as Christians also take when life bares its teeth at us. On the one hand there is something of resignation to the inevitable. And yet… Jesus is always involved. And when Jesus is involved, there is always resurrection ahead.
My Lord, today all is silent. You have given Your precious life for the salvation of the world. Now you rest in peace. Lord, may I also keep vigil with you as you sleep.  I know that this ends in glorious triumph, your victory over sin and death. But for now I sit quietly mourning Your death. It is enough for me to wait for the breaking of the day and your resurrection. Amen
---
A message from the Minister for 10th April, Good Friday.
Next week sees the 75th anniversary of the liberation of Bergen-Belsen in April 1945. My first posting as an Army Chaplain was to Germany, to Hohne, a large barracks on the edge of the Lüneburg Heath and adjacent to the site of the former Nazi concentration camp, where we often took young soldiers for a vivid lesson on man's inhumanity to man. Nothing of the original camp remains of course, the buildings were all burnt to the ground and nowadays amongst the trees there's just the mounds that mark mass graves and the sound of silence. It's often said of such gruesome places that even the birds don't sing there. I expect it was said of Golgotha too, the Biblical place of the skull, where Jesus took his place in the queue for execution, and the only sounds were the moans of the dying and the mourning of the bystanders. Then silence. No place for birdsong on Good Friday.
Yet in the strange stillness of this Good Friday we can hear the birds sing more clearly than usual. They're oblivious to what's going on around them and without the usual everyday sounds to drown them out they can't help but raise our spirits towards the dawn chorus of Easter Day and the liberation from sin and death that Jesus secured once and for all, by his death and resurrection.
Eternal God, in the cross of Jesus we see the cost of our sin and the depth of your liberating love; in humble hope and fear may we place at his feet all that we have and all that we are.   Amen.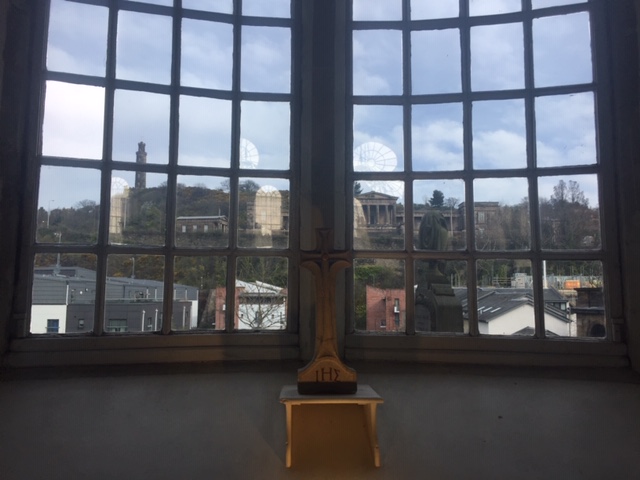 ---
A message from Rev Breda Ludik for 9th April, Maundy Thursday.
There is an old legend that tells the story of how the devil (a master of disguise) gathered some of his minions (disguised as angels) and attempted to enter heaven by pretending to be the risen Christ. When he approached the gates, he and his minions called out the words of the traditional psalm of welcoming, Psalm 24: "Lift up your heads, O gates! And be lifted up, O ancient doors! That the King of glory may come in." The real angels looked down at the procession with the glad thought that it was their king, returning after his conquest of death. So they continued the psalm: "Who is the King of glory?" The devil, not known for his humility, then made a fatal mistake: He raised his arms in a majestic gesture and called out: "I am!" At this, the angels called out in unison: "You are not our King! He carries the scars of love in his hands, the marks of the nails from the cross."
This is our King of glory. The one with the scars on his hands. The one whose death for our sake we will remember tomorrow. Today is Maundy Thursday, on which we are reminded of the last supper and the washing of the feet of the disciples – two acts of self-giving with which to understand his death on the cross.
Lord Jesus, as we are reminded of your willing sacrifice, we are deeply convicted and filled with incredible joy at the same time. You are, indeed, the King of glory. Amen
---
A message from the Minister for 8th April, Wednesday of Holy Week.
In the traditional timeline of Holy Week, it was on the Wednesday that Jesus remained quietly at home in Bethany with his friends Martha, Mary and Lazarus, and prepared himself for the ordeal awaiting him in nearby Jerusalem. Meanwhile Judas was bargaining with the religious authorities to betray him.
The Gospel accounts differ on the details of this enchanting episode, but some elements remain consistent: the dramatic gesture of pouring out the expensive perfume over Jesus, the readiness of others to criticise such extravagance, and the sense of preparation for Christ's death and burial. It's an important part of our own preparations to mark these things, and an opportunity to pause on the threshold of Maundy Thursday and Good Friday to take stock of where we are and of what's coming. In the sanctuary of our own homes, supported by family and friends beside us or at a distance, we can quietly seek strength for all that lies ahead, and find comfort in the reminder that Jesus was amongst friends at this crucial point in the week. Friends who would be with him even when his body had been lifted up and his blood poured out like so much precious ointment in the most extravagant gesture of all.
Almighty God, we remember your Son seeking strength in your presence for the trial of his faith, and the comfort he drew from being anointed; and we pray for faith to look to you, that we may find strength to do your will and courage to face all that lies ahead. Amen.
---
A message from Rev Breda Ludik for 7th April, Tuesday of Holy Week.
The Gospel reading for today is John12:20-36. In verse 24 Jesus makes a statement that makes complete sense when heard in Holy week: "Very truly, I tell you, unless a grain of wheat falls into the earth and dies, it remains just a single grain; but if it dies, it bears much fruit." We know something his bewildered disciples did not know when they heard him say these words. We know how fruitful his sacrifice on the cross and his resurrection was. But Jesus was not only speaking of himself. He was also applying this to his followers. He invites us to follow him down the road he is taking – a road that involves sacrifice. For some, but not for all his followers this meant sacrificing their lives. For others it meant other forms of self-sacrifice. But, Jesus reminds us in the very next verse, we lose life itself if we are not willing to make this sacrifice.
There are between 24 and 28 grains of wheat in a spike. No one can count how many grains of wheat there is in a grain of wheat when it falls into the earth in a fruitful death. Jesus' death has freed us up to live meaningful, fruitful lives ourselves.
Lord, our Saviour, healer of the world. We pray that the lives of your servants be fruitful in these distressing times and that your gift of wholeness may come through our sacrifices. Amen
---
A message from the Minister for 6th April, Monday of Holy Week.
The recommended reading for today is St John 12:1-11, where Mary anoints Jesus at Bethany. But in St John's chronology that happens the day before the triumphal entry to Jerusalem, not the day after. More traditionally this first day after Palm Sunday is when we recall how Jesus visited the temple in Jerusalem, angrily overturned the tables of the money-changers in the precincts and declared that his Father's house should be a house of prayer for all nations.
It wasn't that money-changers were there in the first place that angered Jesus so much. The payment of Temple taxes went with the territory. But it was the ruthless way they overcharged the pilgrims who had come flocking to Jerusalem for the Passover. The outrageous rates of exchange they imposed on those who came from further afield. That's what infuriated him. As did the over-priced animals for sacrifice by those who once there had no option but to pay whatever was demanded of them. It was exploitation, pure and simple, and Jesus would have none of it.
Even at times like this news reports suggest there are those who would exploit the situation for their own gain, taking advantage of those who have no option but to pay over the odds for things like hand sanitiser and protective equipment and testing kits. That can't be right either, and today of all days we are reminded of the yearning for fairness and justice that still lies at the heart of our faith. And of the continuing need for prayer for all nations.
Almighty God, whose Son Jesus Christ cleansed the courts of your holy house so that it should rightly be a house of prayer for all nations, purify our hearts and our worship and our lives that we may become your holy temple, a dwelling place for your Spirit; through Jesus Christ our Lord. Amen.
---
A Message from the Minister, for Palm Sunday, 5th April 2020.
Gospel Reading for the Day – St Matthew 21: 1-11
It seems pretty clear that Jesus knew exactly what lay ahead when he drew near to Jerusalem for the final time. He knew where two of his disciples would find a donkey tied up waiting for them to take back to him. He knew the shouts of "Hosanna" that greeted him at the city gates would all too quickly turn to "Crucify." And he knew that before the week was out he would be mocked and spat on, tried and tortured and executed like a common criminal. He had warned the disciples often enough, even if they didn't always fully understand. But he understood. He knew exactly what lay ahead.
Sometimes not knowing is even worse. There are so many unknowns right now. How long will this last? How many more will die? Nobody knows. All we know is that we must stay at home and stay safe, to protect ourselves and the NHS and to save lives. We've been warned often enough, even if we haven't always fully understood. But in the face of all that we don't know, we know this. That on Palm Sunday we can look ahead with faith and courage. Because Jesus did.
Ride on! Ride on in majesty!
In lowly pomp ride on to die;
Bow thy meek head to mortal pain,
Then take, O God, thy power, and reign.
Lord Jesus Christ, on the first Palm Sunday you entered the rebellious city where you were to die. Enter our hearts, we pray, and subdue them to yourself. And as your disciples blessed your coming and spread garments and branches in your way, make us ready to lay at your feet all that we have and are, that we too may bless your coming in the name of the Lord. Amen.
---
A message from the Minister for Sunday 29th March 2020
The Fifth Sunday of Lent used to be called Passion Sunday, when the Church would focus on the Passion – meaning suffering – of Jesus. Personally I've always had a soft spot for Passion Sunday as it was the day, more years ago than I care to admit, that I took my first solo services as a divinity student, in the linked East Lothian churches of Athelstaneford and Whitekirk. I was quite nervous and the emphasis on suffering seemed entirely appropriate! I don't remember the sermon I preached, so you're spared my student ramblings, but I still remember the text I preached on. It was St Mark 10:32 They were on the road, going up to Jerusalem, and Jesus was walking ahead of them; they were amazed, and those who followed were afraid.
As Passion Sunday comes round again there's no shortage of fear and amazement in the world – amazement at how quickly things have changed, and fear of what may be yet to come. But perhaps we can find strength in one phrase of that Bible verse, and Jesus was walking ahead of them. For it reminds us that whatever the fear and amazement of those who followed him then and those who follow him now, he still walks ahead of us, ready to suffer and die on the cross, ready to rise again to bring new life and hope to the world. In his Passion is our peace.
Most merciful God, by the death and resurrection of your Son Jesus Christ, you created humanity anew. Grant that by faith in him who suffered on the cross, we may triumph in the power of his victory; through Jesus Christ our Lord. Amen.
---
---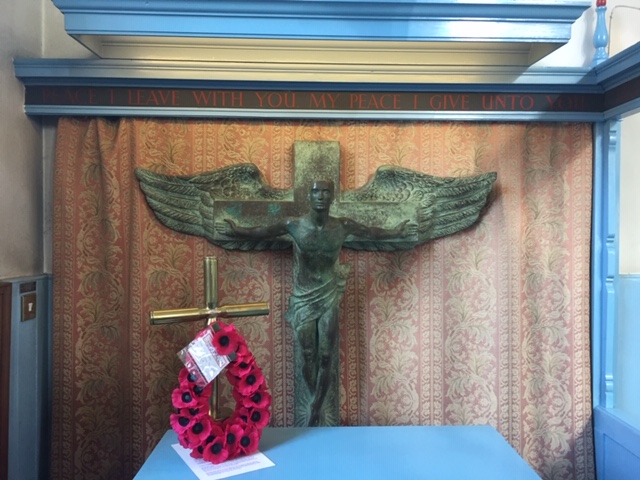 ---
A message from the Minister for Sunday 22nd March 2020
Writing in the thirteenth century, the then Pope Innocent III was to say of the Fourth Sunday of Lent  "On this Sunday, which marks the middle of Lent, a measure of consoling relaxation is provided, so that the faithful may not break down under the severe strain of Lenten fast but may continue to bear the restrictions with a refreshed and easier heart". As this same Sunday comes round once again, it is especially poignant to reflect on the severe strain and restrictions which we currently all bear, with little prospect of a refreshed and easier heart any time soon. Lent 4 is also Mothering Sunday of course, and it seems especially cruel that we can't come together in Canongate Kirk, our own mother church, to give thanks for our mothers and grandmothers, stepmothers and godmothers and all who have nurtured and influenced us over the years. But we don't need to be in church to do that, and you might like to share the wonderfully appropriate Collect for Mothering Sunday which otherwise we could have been saying together – let's still say it together, just separately?
God of compassion, whose Son Jesus Christ, the child of Mary, shared the life of a home in Nazareth, and on the cross drew the whole human family to himself: strengthen us in our daily living that in joy and in sorrow we may know the power of your presence to bind together and to heal; through Jesus Christ your Son our Lord, who is alive and reigns with you , in the unity of the Holy Spirit, one God, now and for ever. Amen.