Welcome to our News page!   Scroll down to find out what's on and what's been happening at Canongate Kirk, the Kirk of Holyroodhouse and Edinburgh Castle. 
Download the latest:

---
---
December Concerts at Canongate Kirk


Band of The Royal Regiment of Scotland on Thursday 13th December at 7pm.  Free entry
Lowland Band on   Saturday 15th December at 1pm.  Free entry
Chapter House Singers on Saturday 15th December 7.30pm.  Tickets £13.50 in advance from www.chapterhousesingers.com or £15 on the door.


A Classical Banquet for Christmas on Sunday 16th December at 4pm.  Tickets £12 on the door or from www.ticketsource.co.uk

St Andrew Camerata on 22nd December at 7.30pm.  An Edinburgh Christmas directed Vincent Wallace.  Tickets £12/£8 from www.usherhall.co.uk or on the door.
Remembrance Sunday
The Act of Remembrance on Sunday 11th November, 2018, the 100th anniversary of the end of WW1, was led by a piper and bugler from the Royal Regiment of Scotland.  Canongate Kirk was full to capacity for what was a very moving and historic service.  More photos on our Facebook page at https://bit.ly/2z5r0qf
Blythswood Shoe Box Appeal
Many thanks to all those who generously filled shoeboxes for the 25th anniversary of the Blythswood Appeal. These were delivered to a local office in time for delivery and distribution in Eastern Europe and beyond before Christmas.
Harvest Festival
Two of our Sunday School children with the display of goods and toiletries donated by the Congregation at Harvest Thanksgiving.  The baskets of food will be given to organisations working with homeless people throughout Edinburgh.
Canongate Kirk Appeal 

Click HERE for Gift Aid Form
Latest Fundraising Events for the Canongate Kirk Appeal
A sponsored walk around Arthur's Seat and a beautiful recital by harpist Erynne were two of the most recent fund-raising events for the Church appeal.  Thanks to all the runners and walkers and those who provided the essential bacon rolls after the sponsored walk!  Thanks also to Erynne for providing such magical harp music.  The two events have raised several hundred pounds between them.
More News…
There But Not There
To mark "the last hundred days" taking us to the centenary of the Armistice that finally brought the First World War to an end on 11th November 1918, Canongate Kirk is participating in the nationwide "There but not there" installation. Five silhouettes have been positioned in the pews of the Kirk to represent the five local soldiers whose deaths we have marked during the course of the last four years. For more information visit the website www.therebutnotthere.org.uk or follow this link to a recent article in The Scotsman newspaper https://bit.ly/2PrA3s1
More Fundraising Events…
Summer Fayre
On Saturday 28th July, following a brief deluge of rain, the sun shone on the Canongate Kirk Summer Fayre held inside the Kirk.  Neighbours and tourists alike came to browse the stalls which included homebaking, hats and bags, jewellery, plants and lots more.  Face and nail painting, a magician and tombola were on offer too.   At the last count, funds raised were up to £2000.  Once again, all money raised will go to the church appeal fund and a huge thank you is due to all those who helped organise, sell, bring and buy.  More pictures can be found on our Facebook page 


Manse Garden Party
Over 70 guests attended a fundraising garden party hosted by the Minister following the 11.15 service on June 24th.   Guests enjoyed refreshments, music and good company in the beautiful surroundings of the Manse garden.  As is usual in Scotland, a contingency plan had been made to move indoors in case of rain but thankfully this wasn't necessary as the weather was fabulous!  All funds raised will go to the church appeal and thanks are due to all those who attended, contributed and helped to make the event such a success.
Climate Change Talk
Previous fundraising events took place on 10th May in the Harry Younger Hall when Martin Baker (retired atmospheric physicist and Antarctica base commander) gave a fascinating presentation on Antarctica and Global Climate Change.  As Martin has visited the area to study it many times over the past 30 years or so, this was a very personal perspective accompanied by some of his stunning photos of the region.  The talk raised an impressive £600 for the Appeal fund.
Piano Recital
One of our first fund raising event for the Appeal took place on  Sunday 29th April when Ally Collins, one of the younger members of our congregation and a superb pianist,  gave a 30-minute piano recital of works by Chopin.  Ally, pictured here,  kindly donated the very generous  retiring collection to the Appeal Fund.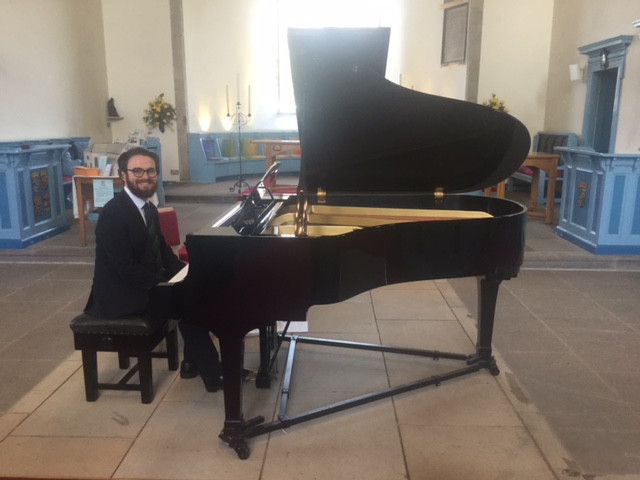 Band Concert
A big thank you to the Lowland Band of the Royal Regiment of Scotland who thrilled tourists with a rousing concert on  Saturday 14th April with a closing collection for the Church Appeal.  More pictures on our Facebook page.