Welcome to our News page!   Scroll down to find out what's on and what's been happening at Canongate Kirk, the Kirk of Holyroodhouse and Edinburgh Castle. You can also download a copy of the latest Newsletter:  SEPTEMBER
Canongate Kirk Appeal
Click HERE for Gift Aid Form
Sponsored Walk
The next  fundraising event in aid of the Canongate Kirk appeal is a sponsored walk on Saturday 29th September starting at 10am from the Harry Younger Hall and going down to Queen's Park, round Arthur's Seat and back to the Harry Younger Hall for refreshments.  Sponsor forms are available from the Church Office.  Even if you are unable to take part, please consider giving a donation.
Rugby Talk in aid of Canongate Kirk Appeal
Edinburgh Doors Open Days – Weekend of 29th and 30th September
Open the door on Edinburgh's hidden gems!  Now in its 27th year, the Edinburgh Doors Open Days are fast becoming one of the city's favourite free days out. This is your chance to explore some of Edinburgh's most important buildings. Many venues will offer behind the scenes tours, talks or exhibitions to bring the history of these monumental buildings to life.
Iconic venues that have previously taken part include:
– Canongate Kirk
– John Knox House
– Mansfield Traquair
– The Royal Observatory of Edinburgh
– General Register House
– Lothian Buses Central Depot
– Merchants Hall
– St Andrew's House
– Parliament House
Canongate Kirk will again be taking part and will be open all day Saturday 29th and afternoon Sunday 30th September with visual displays, tours and childrens' quiz.  Find out more on the Doors Open Day website.
There But Not There
To mark "the last hundred days" taking us to the centenary of the Armistice that finally brought the First World War to an end on 11th November 1918, Canongate Kirk is participating in the nationwide "There but not there" installation. Five silhouettes have been positioned in the pews of the Kirk to represent the five local soldiers whose deaths we have marked during the course of the last four years. For more information visit the website www.therebutnotthere.org.uk or follow this link to a recent article in The Scotsman newspaper https://bit.ly/2PrA3s1
Fellowship Gathering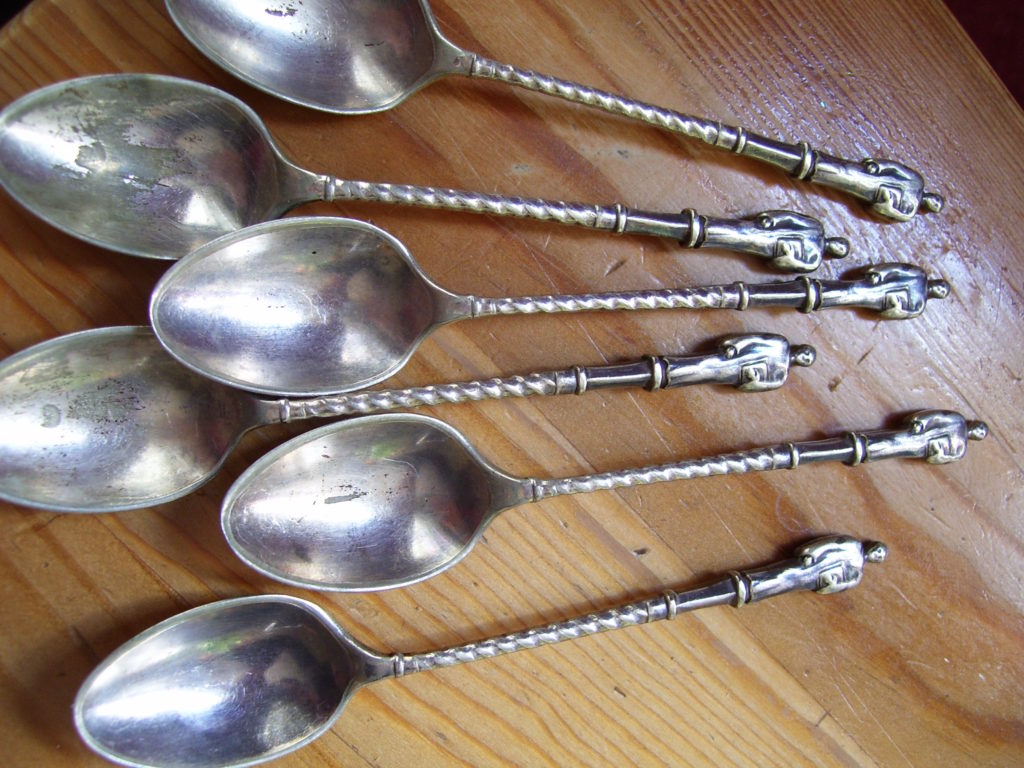 The Autumn programm of the 2018 Fellowship Gathering re-commences on Thursday 27th September in the Harry Younger Hall at 7pm. It will be a Songs of Praise evening. We will be hearing from invited members of the congregation about their favourite hymn, which we will then sing. The evening will be led and accompanied by our Minister.   For information about the rest of the Autumn programme please go to our Fellowship Gathering page.
Open Kirk
Open Kirk season at Canongate Kirk continues to run until the end of September each year.  Volunteer stewards keep the church open as much as possible for tourists and visitors to explore usually from 10.30am until 4.30pm. If the doors are open, then please drop in and have a look around.  There is a small selection of souvenirs on sale, including the exclusive Canongate Kirk tie, modelled by three of our stewards in the photo!  We are also running free tours of the church and churchyard every Sunday at 1pm. Meet outside the church door. Or, if you fancy exploring on your own, go straight to our Kirkyard page which has trails to download as well as podcasts to listen to.  You can also have a look at our Visitors page which has notes on the church: select your language and download.
Summer Fayre
On Saturday 28th July, following a brief deluge of rain, the sun shone on the Canongate Kirk Summer Fayre held inside the Kirk.  Neighbours and tourists alike came to browse the stalls which included homebaking, hats and bags, jewellery, plants and lots more.  Face and nail painting, a magician and tombola were on offer too.   At the last count, funds raised were up to £2000.  Once again, all money raised will go to the church appeal fund and a huge thank you is due to all those who helped organise, sell, bring and buy.  More pictures can be found on our Facebook page 


Manse Garden Party
Over 70 guests attended a fundraising garden party hosted by the Minister following the 11.15 service on June 24th.   Guests enjoyed refreshments, music and good company in the beautiful surroundings of the Manse garden.  As is usual in Scotland, a contingency plan had been made to move indoors in case of rain but thankfully this wasn't necessary as the weather was fabulous!  All funds raised will go to the church appeal and thanks are due to all those who attended, contributed and helped to make the event such a success.
Suffrage Centenary March
Thousands of women marking the 100th anniversary of the Representation of the People's Act marched through Edinburgh on Sunday 10th June.   The participants wore the colours of the suffrage movement, green, white or violet – allowing the Minister to join them for a colour co-ordinated photo as they walked past the Manse!
More Fundraising Events
Previous fundraising events took place on 10th May in the Harry Younger Hall when Martin Baker (retired atmospheric physicist and Antarctica base commander) gave a fascinating presentation on Antarctica and Global Climate Change.  As Martin has visited the area to study it many times over the past 30 years or so, this was a very personal perspective accompanied by some of his stunning photos of the region.  The talk raised an impressive £600 for the Appeal fund.
One of our first fund raising event for the Appeal took place on  Sunday 29th April when Ally Collins, one of the younger members of our congregation and a superb pianist,  gave a 30-minute piano recital of works by Chopin.  Ally, pictured here,  kindly donated the very generous  retiring collection to the Appeal Fund.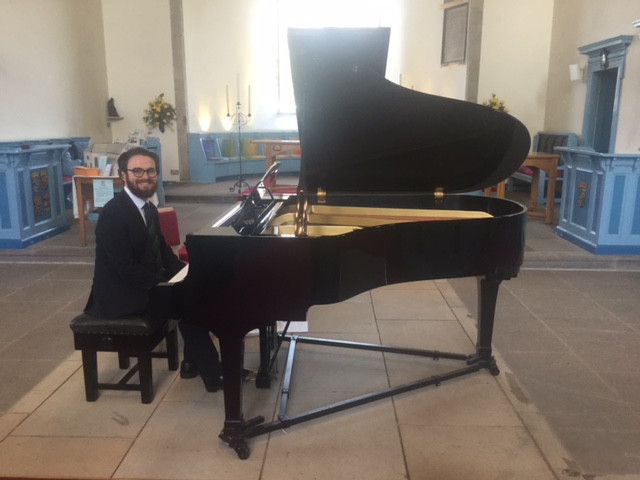 A big thank you to the Lowland Band of the Royal Regiment of Scotland who thrilled tourists with a rousing concert on  Saturday 14th April with a closing collection for the Church Appeal.  More pictures on our Facebook page.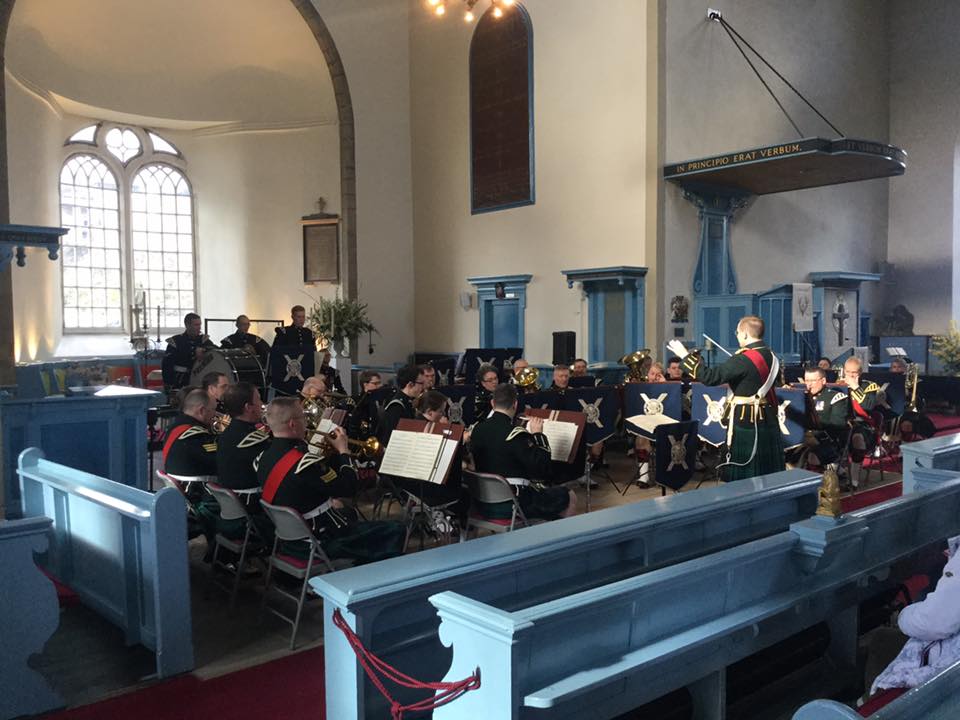 Palm Sunday Pilgrimage
Members of three local churches join in a Palm Sunday pilgrimage from the Mercat Cross to Holyroodhouse, pausing here in our kirkyard before heading to the Abbey.
New Elders
Our quartet of new young elders was completed on Palm Sunday morning with the ordination of Polly Burns, joined here on the doorstep afterwards by Daniel, Alexis and Stuart.