Welcome to our News page.

  
With the whole of Scotland having now moved beyond Level 0 in terms of restrictions, things in church are slowly returning to something like they used to be.  Since numbers are now unrestricted, we no longer need to know in advance who is planning to attend.   We still need a list for track and trace purposes and this will simply be dealt with at the church door.    Visitors are especially welcome.    Please be aware that the service will continue to be livestreamed and available on this website.  
Weekly Sunday services may also be heard the following Monday on a landline telephone – simply dial 0131 546 4001 and press 1 when prompted.  Calls are charged at your phone provider's usual local rate – please let anyone know who might appreciate this kind of connection.   
Read the latest edition of our NEWSLETTER here.  Paper copies can be sent out on request. 
---
Click on the picture below to see our service live on Sundays at  10.30 am.
             Please note that we are trialing  new filming equipment so if the livestream does not work immediately,  a recording of the service will be uploaded later during the day.
Order of service for Sunday 24th October 2021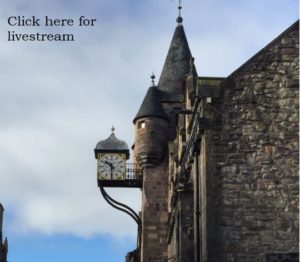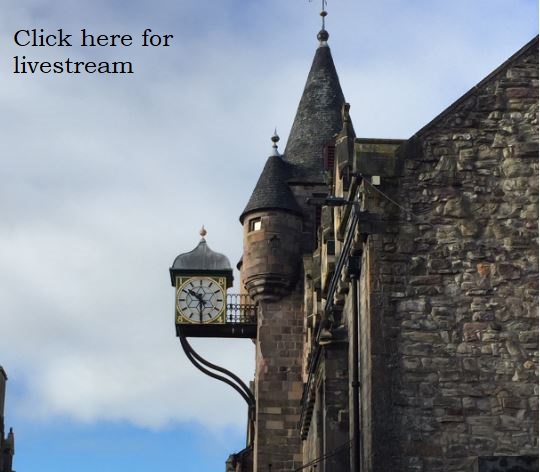 Watch more services on our You Tube channel.
---
Welcome Service  for Young Christian Climate Network
The Moderator, Lord Wallace, joined a delegation from YCCN for a welcome service at Canongate Kirk on Wednesday 20th October.  Having walked from St Ives in Cornwall, the pilgrims are spending a couple of days in Edinburgh before continuing their walk to Glasgow for COP26.
---
Climate Change Talk
In the run up to COP26 in November, members of the Eco Group gave a climate change themed lecture in the Harry Younger Hall;  Martin Baker and Alexis Moyer spoke about their personal journeys and thoughts on climate change after years working in the Antarctic and Arctic.   The lecture series is run jointly with our friends at Old St. Paul's.  The second lecture will be given by Lord Wallace, The Moderator, in Old St Paul's at 7pm on Thursday 21st October.
---
Harvest Thanksgiving
The generous donations of non perishable food from members of the congregation at our Harvest Thanksgiving service will be delivered to Streetwork, a local charity for the homeless.
---
Centenary of The Association of Wrens and Women of the Royal Naval Services

On Sunday 3rd October we were joined by members of  The Association of Wrens and  Women of the Royal Naval Services, and the Lord Provost, as the conclusion to their weekend of centenary celebrations.

Our ship's bell – presented last year by the Edinburgh branch of the Royal Naval Association – now sits in a custom built cradle made by Geoff Williams, Chairman of the Livingston branch of Royal British Legion Scotland.
---
The Parish Anniversary
On Sunday 12th September we mark the 893rd anniversary of the founding  of the Abbey of the Holy Rood and our ancient parish on Holy Cross Day (14th September) 1128.
---
The Royal Scots Dragoon Guards

On Friday 3rd September 2021, the Regiment marched down the Royal Mile to mark its 50th anniversary with a drumhead service in the grounds of Holyroodhouse.
---
Minister appointed Dean of the Order of St John in Scotland

Neil Gardner has been appointed Dean of the Order of St John in Scotland in succession to The Very Revd Dr John Cairns KCVO.  A short video marking the new appointments of Prior, Chancellor and Dean can be seen here https://youtu.be/So23nb-ehFw
---