Welcome to our News page.  
During the current crisis and even though our church has re-opened for a limited weekly service,  this is the best way to keep in touch with Canongate Kirk, the Kirk of Holyroodhouse and Edinburgh Castle. Pre-recorded services are posted below, and the latest monthly newsletter can be downloaded here.
If you'd like to join in with our weekly social hour on Zoom, at 2pm every Sunday, please e mail the office canongatekirk@btinternet.com and we'll send you a link. You don't need to join in every week, or for a whole hour, but we'd be glad to see you!
Our Bible Study programme run by Rev Breda Ludik starts on Wednesday 8th July running at the same time each week until Wednesday 12th August and can be found here.    If you have questions or comments for Breda, and would like to take part in a running blog or are interested in joining a Zoom Bible Study session in the evening, please get in touch with him at  ludik.breda@gmail.com and please forward the link to anyone you think might be interested.
---
The photograph below shows the congregation gathering on Sunday 26th July for our first service since lock-down began in March.  We will continue to hold one service at 10am every Sunday morning strictly in accordance with current covid-19 rules and regulations.  If you are interested in attending please get in touch with the office at canongatekirk@btinternet.com but please be aware that numbers are limited.  A pre-recorded version of the service will be uploaded to this page on Saturday evening.
To watch the latest video service,  double click on the arrow in the centre of the picture below and then click on 'Play'. Make sure the sound is on!
---
We are trying our first live service today 2nd August.  This will start at 10am.  Click here to watch.
---
Previous  reflections  can be found  HERE 
---
We are currently participating in Flags for Edinburgh, a public art project by Peter Liversidge originally staged in 2013, that has invited sites across the length and breadth of the city to fly a flag saying simply 'Hello'.  Forming part of a series of artist works marking the intended dates of this year's festival, Flags for Edinburgh continues until  30th August 2020, sending a greeting to residents across the city as well as the wider world during the gradual re-emergence after an extended period of lockdown.
---
CANONGATE KIRK AND CORONAVIRUS – 18th March 2020
Dear friends,
In the midst of such unprecedented restrictions, the news may or may not have reached you that the Church of Scotland has now announced that all services of public worship are to be suspended with immediate effect. From our perspective this simply means that sadly there can be no Sunday services in Canongate Kirk for the time being.
This does not however mean a complete shutdown! Our website www.canongatekirk.org.uk and social media will stay up and running with regular updates, photographs, prayers and reflections. Please keep a watchful eye on it. In the next few days we shall be compiling a list of members who come into the most vulnerable categories by way of age or underlying health conditions, prioritising especially those who have no family support within reach. We shall endeavour to keep in touch by telephone or e-mail where appropriate, and where possible to ensure a regular supply of essential groceries and prescriptions. At the same time we shall compile a list of those who are willing to offer help and support, by making a friendly phone call or delivering groceries and medicines. Please let us know if you would like to be on either list, or can think of someone who might like to be.
Centuries ago our ancient and beloved parish was founded by King David I after his famously lethal encounter with a stag. To this day our emblem is the cross amidst the antlers, and as we face another lethal challenge we must see in it still a sign of triumph over adversity, of hope over despair.
May God bless you, and all those whom you love and serve and pray for.
Neil
---
Royal Naval Association
On Sunday 15th March, just before the latest restrictions were imposed, we were glad to welcome members and friends of the  Edinburgh branch of the Royal Naval Association, marking its 25th anniversary.  The service included a parade of standards, and the blessing of a bell which will remain in Canongate Kirk.
---
The Duke of Kent
HRH The Duke of Kent, Deputy Colonel-in-Chief, The Royal Scots Dragoon Guards (Carabiniers and Greys) attended a service in Canongate Kirk on Tuesday 3rd December 2019 to lay up a Regimental Standard.  More photos on our Facebook page.
---
A replica Spitfire makes a poignant backdrop for the annual Act of Remembrance by 603 Squadron on Remembrance Sunday.
---
Visit of HM The Queen to Canongate Kirk on Sunday 30th June 2019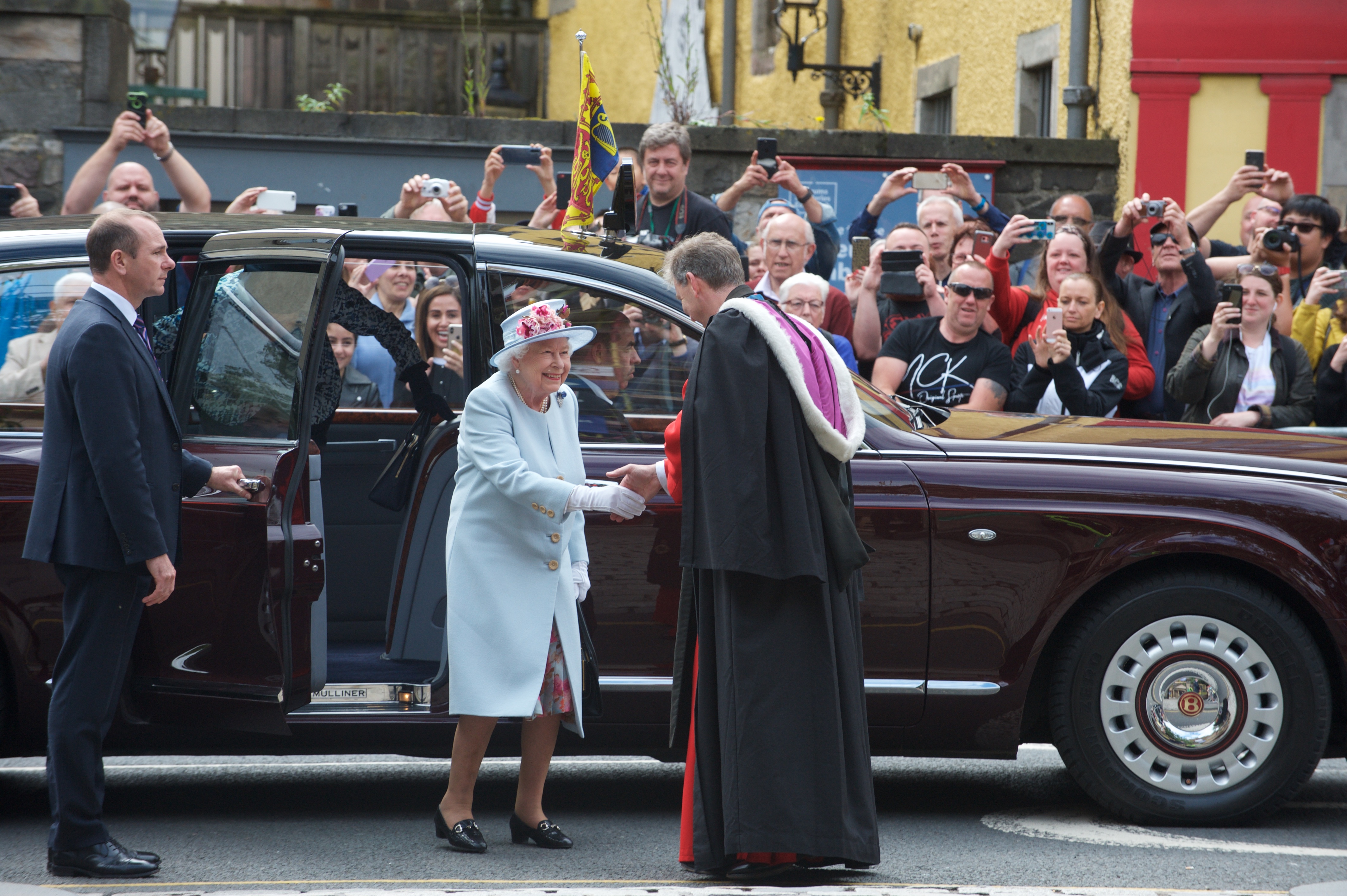 Photo courtesy ROB MCDOUGALL www.RobMcDougall.com
More photos on our Royal Visit page.