If you would like to help support the work of Canongate Kirk, we would be glad to hear from you. Please e- mail the Kirk Office at canongatekirk@btinternet.com or write to The Treasurer, c/o Canongate Kirk Office, 95 Canongate, Edinburgh EH8 8BR, for details on how to donate by cheque, standing order or electronic transfer. If you are a UK tax payer you might like to consider GIFT AID, by which we can claim a further percentage at no extra cost to yourself. We can supply you with a form for that too.
It has been estimated that it costs approximately £500 a day to run Canongate Kirk. This includes obvious expenditure like heating and lighting and maintenance, and less obvious expenses like salaries and insurance. We receive no financial support from the Church of Scotland or any other agency and rely entirely on the generosity of our congregation-members, visitors and friends to help us meet all our financial commitments.
We look forward to hearing from you, and thank you in anticipation for your support. It is vital to our ongoing work and witness on and around the Royal Mile, and very much appreciated.
With all good wishes, and every blessing
Neil Gardner
---
Some of our fundraising events:
A sponsored walk around Arthur's Seat and a beautiful recital by harpist Erynne were two of the most recent fund-raising events for the Church appeal. Thanks to all the runners and walkers and those who provided the essential bacon rolls after the sponsored walk! Thanks also to Erynne for providing such magical harp music. The two events have raised several hundred pounds between them.
Summer Fayre
On Saturday 28th July 2018,  following a brief deluge of rain, the sun shone on the Canongate Kirk Summer Fayre held inside the Kirk. Neighbours and tourists alike came to browse the stalls which included homebaking, hats and bags, jewellery, plants and lots more. Face and nail painting, a magician and tombola were on offer too. At the last count, funds raised were up to £2000. Once again, all money raised will go to the church appeal fund and a huge thank you is due to all those who helped organise, sell, bring and buy. More pictures can be found on our Facebook page.
Manse Garden Party
Over 70 guests attended a fundraising garden party hosted by the Minister following the 11.15 service on June 24th. Guests enjoyed refreshments, music and good company in the beautiful surroundings of the Manse garden. As is usual in Scotland, a contingency plan had been made to move indoors in case of rain but thankfully this wasn't necessary as the weather was fabulous! All funds raised will go to the church appeal and thanks are due to all those who attended, contributed and helped to make the event such a success.
Climate Change Talk
Previous fundraising events took place on 10th May in the Harry Younger Hall when Martin Baker (retired atmospheric physicist and Antarctica base commander) gave a fascinating presentation on Antarctica and Global Climate Change. As Martin has visited the area to study it many times over the past 30 years or so, this was a very personal perspective accompanied by some of his stunning photos of the region. The talk raised an impressive £600 for the Appeal fund.
Piano Recital
One of our first fund raising event for the Appeal took place on Sunday 29th April when Ally Collins, one of the younger members of our congregation and a superb pianist, gave a 30-minute piano recital of works by Chopin. Ally, pictured here, kindly donated the very generous retiring collection to the Appeal Fund.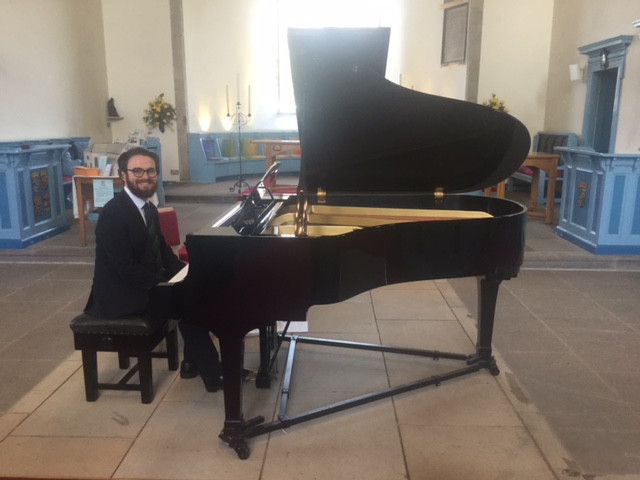 Band Concert
A big thank you to the Lowland Band of the Royal Regiment of Scotland who thrilled tourists with a rousing concert on Saturday 14th April with a closing collection for the Church Appeal. More pictures on our Facebook page.