Welcome to our News page!   
Find out what's on and what's been happening at Canongate Kirk, the Kirk of Holyroodhouse and Edinburgh Castle.   Download the latest newsletter for  June 2019   Read about our Fellowship Gathering programme for 2019.  Read a selection of recent sermons here.
---
 The Canongate Normandy Tapestry
The beautiful tapestry clothing the seats of the apse is a memorial to those who died during, or since, the Battle of Normandy on 6th June 1944 and was unveiled 25 years ago.  Designed by Hannah Frew Paterson MBE and put together by a team of fifty craftspeople,  the tapestry has maintainted its vibrant colours and is a much loved characteristic of the kirk's interior.   Please drop in during Open Kirk season and take a closer look at this wonderful work of art as we commemorate the 75th anniversary of the Normany Landings.  Read Rev Neil Gardner's sermon for Pentecost, Sunday 9th June.
---
On top of the world!
Congratulations to Neil for bravely facing his fear of heights  to climb up to the roof of Canongate Kirk! The scaffolding at the front of the church is enabling essential repairs to be made to the exterior.   Friends and members of the church have been working hard for the past eighteen months to raise funds for this work which will continue for the near future.  Thank you to all those who contributed so far in so many different ways.  Scroll down to find out more about our on-going appeal.
---
Open Kirk 2019  – 
We are open to visitors!
From May to September, the doors of Canongate Kirk are open to visitors as much as possible, usually from 11.00am to 4pm every day except Sundays when it is open from 1.30pm onwards.  Come inside and see our new and still evolving visitors' centre with topical story boards providing an insight into the past and present of this place of worship.   Our gift shop is stocked with souvenirs and gifts (such as the unique Canongate Kirk tie, see below!) and friendly volunteers are on hand to welcome you and answer any questions.   Explore the interior of the church itself with its famous blue pews or simply just experience the peace and quiet of this beautiful, iconic building.  Click HERE to find out dates and times of our free monthly kirkyard tours.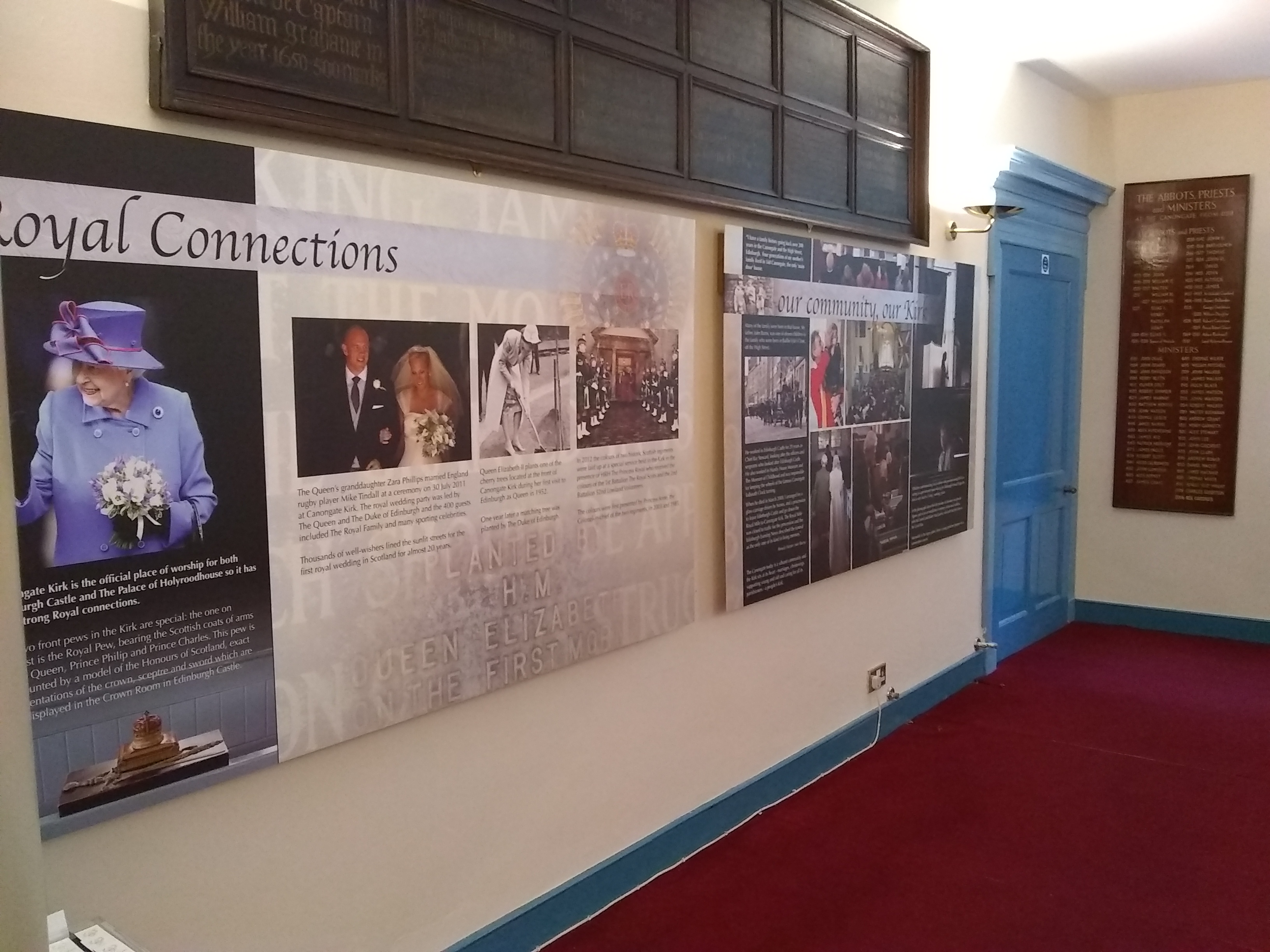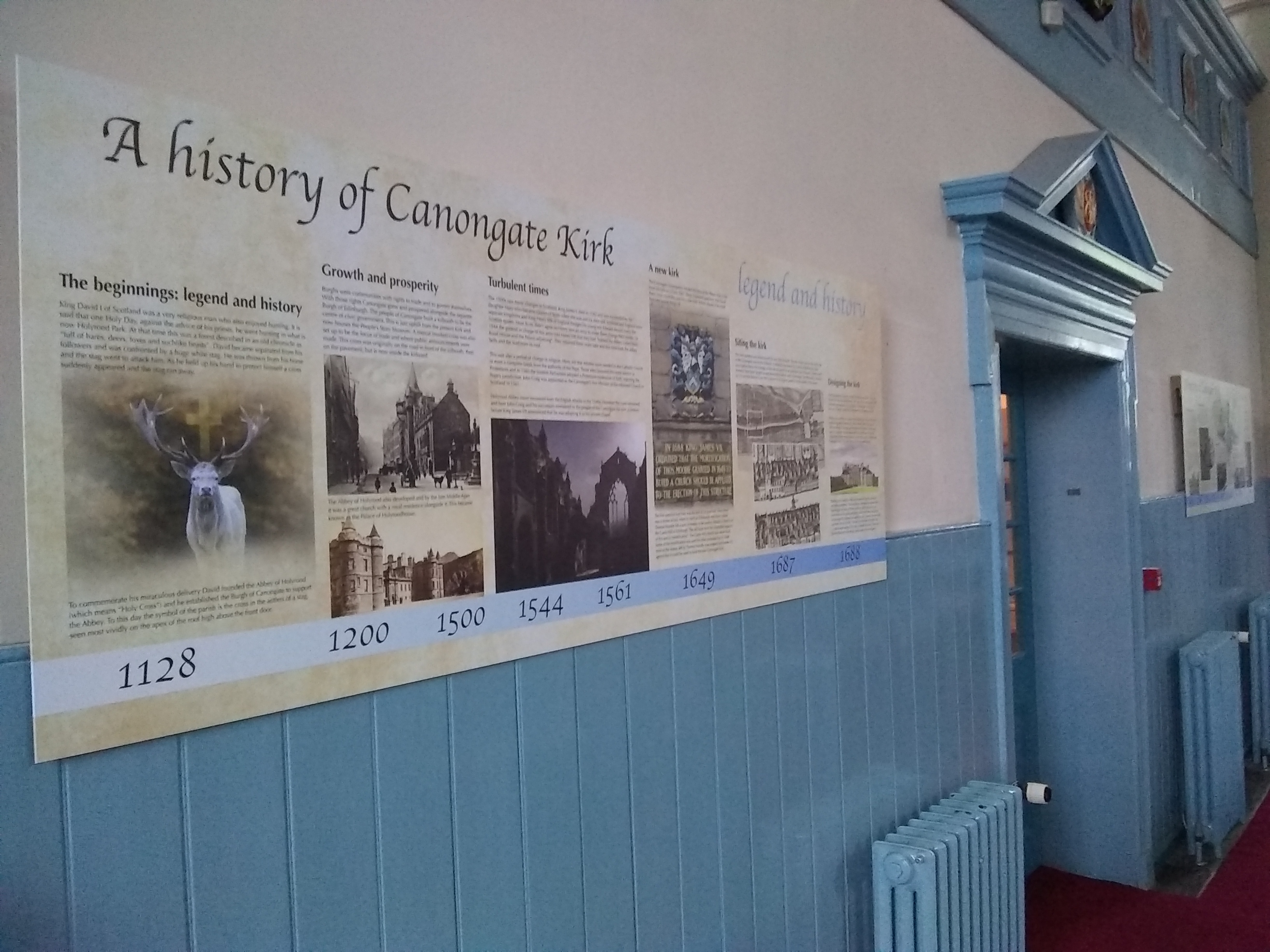 ---
Concert
Calton Consort , Saturday 15th June at 7.30pm.  £12/£10
---
Canongate Kirk Appeal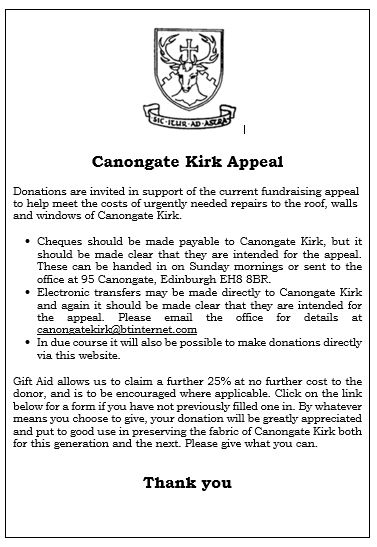 Click HERE for Gift Aid Form
Click HERE  to see news of fundraising events for the Canongate Kirk Appeal.