Welcome to Canongate Kirk.
Whether you have come from around the world or are exploring your own backyard, we are pleased to have you here. Canongate Kirk is an ancient church with a fascinating history – and a contemporary Christian community that feels called to serve and to worship Christ today. We hope that you will enjoy your time in this sanctuary – may it bring peace and perspective to your journey.
Worship: All are welcome to join us for worship. Please see the panel on our home page for our  service times and more information.
We celebrate Holy Communion on the last Sunday of each month during our Parish Worship Service. Additional services of Holy Communion are celebrated at Christmas, Easter, Pentecost, and All Saints.
Those with hearing aids can access the Loop System during worship by setting them  to the "T" position.  Large Print copies of the weekly order of service are available, as are printed copies of the sermon. Please ask one of the duty elders.
Gift Aid envelopes are available in the pews for visitors to Canongate.  Their use will allow us to claim back tax from the Inland Revenue at no further cost to the donor.  
Parents of young children might like to know that our baby changing table is located in the disabled access toilet, located off the kitchen. There is a box of soft toys in the vestibule, and colouring pages and crayons available at the back of the sanctuary. Just look for the tartan bags. If you need any help, please ask one of the duty elders.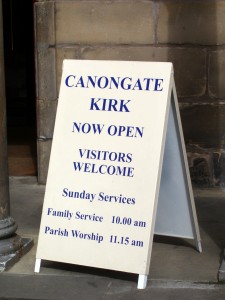 Open Kirk: Between May and September, the Kirk is open to visitors. Members of the congregation are on hand during the morning and afternoon to welcome you and to share our ancient church with you. You will find information about our church available in Afrikaan, Croatian, Danish, Dutch, English, Estonian, French, Gaelic, German, Italian, Scots, and Spanish.
As well as a place of interesting historical significance, the Canongate Kirk is a peaceful place where all may rest and refresh, and, if you like, pray. Everyone is welcome.
We hope to meet you soon.