Welcome to our news page!   Scroll down to find out what's on and what's been happening at Canongate Kirk, the Kirk of Holyroodhouse and Edinburgh Castle.  You can also download a copy of the March Newsletter.
Concert
Calton Consort:  Saturday 24th March at 7.30pm.  Tickets £10/£8
February cold snap!
The Frobenius Organ
Our distinguised Frobenius organ is twenty years old this year and in need of some restoration work. Over the last few days, many of the pipes have been removed for cleaning and repair by David Wood, a renowned organ builder based in Huddersfield. This work will take a few weeks and in the meantime we are grateful to Fettes College for the loan of a temporary organ. The organ will return in a few weeks.
BBC Radio Scotland
This Christmas the Watchnight service is coming from Canongate Kirk.  Pre-recorded a couple of Sundays ago, it will be broadcast at 11.30pm on Sunday 24th December and available on the BBC Radio iPlayer for a month afterwards.
 Centenary of the Women's Royal Naval Service 
On Sunday 26th November we extended a special welcome to those joining us at the 11.15am service to celebrate 'WRNS at 100'.  The guest preacher was The Revd Alison Britchfield, Minister of Tillicoultry and formerly a chaplain in the Royal Navy.  More photos on our Facebook page www.facebook.com/canongate.kirk/
Remembrance Sunday
On Sunday 12th November, representatives of the Armed Forces, Regular and Reserve, joined our congregation for the traditional Remembrance Sunday Service.  The Act of Remembrance was led by Piper Cpl William Mitchell, First Battalion The Royal Irish Regiment (pictured here)  and Bugler Pte Michael McHugh, First Battalion The Royal Regiment of Scotland.    There was  a retiring offering in aid of Poppy Scotland followed by a short wreath-laying ceremony at the Parish War Memorial on the Canongate Tolbooth.  Click here to read Rev Neil Gardner's sermon.
  All Saints
On Sunday 29th October we marked All Saints with a celebration of Holy Communion at both services.  We also marked the 500th anniversary of the Reformation which originally began in Germany on 31st October 1517.
Moderator's Visit
On Sunday,22nd October we welcomed The Rt Revd Dr Derek Browning, Moderator of the General Assembly of the Church of Scotland as our guest preacher at our 11.15am service of Parish Worship.   Minister of Morningside Parish Church, Derek had links with Canongate Kirk during the previous vacancy but this time we were glad to welcome him not only to the pulpit but to the Moderator's seat in the chancel.
Harvest Thanksgiving 
Our Harvest Thanksgiving took place at both services on Sunday 8th October.  Many thanks to the congregation who brought donations of non-perishable foodstuffs and toiletries pictured here. These will be delivered to Streetwork, a local charity for the homeless.   Cash donations will support Canongate Kirk's commitment to feeding the homeless in the coming winter months.  Thanks to all who contributed!
A Royal Visit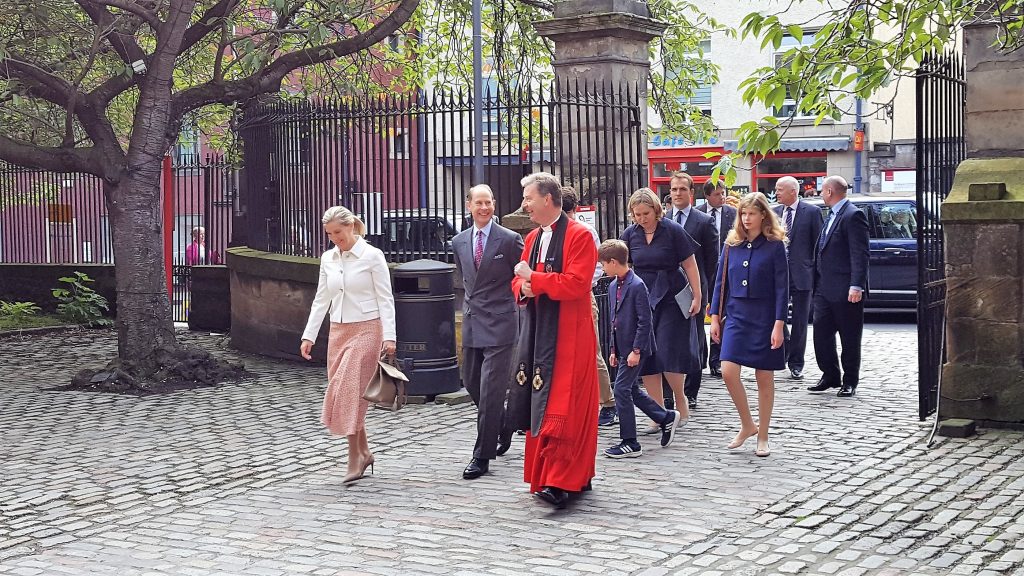 Their Royal Highnesses The Earl and Countess of Wessex arrive with their family at Canongate Kirk for a service on Sunday 6th August 2017 after a weekend in Edinburgh marking Prince Edward's role as Patron of the Edinburgh International Festival.